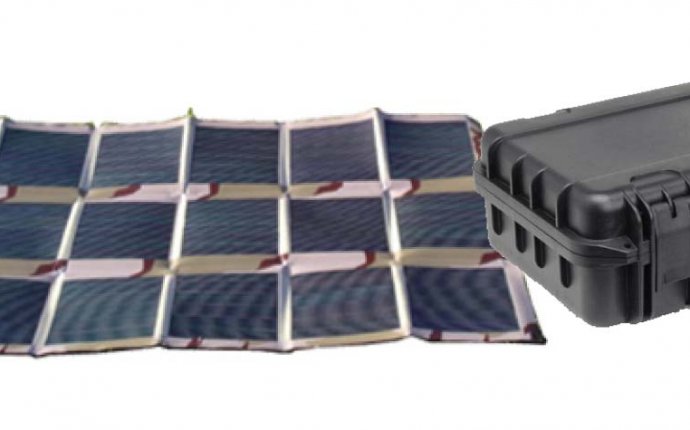 Personal solar Power Generators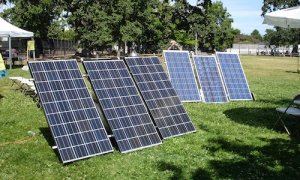 The Main Man
The SolMan Classic portable solar generator is both an alternative and a complement to the gas geneartor. Clean, silent and sustainable, our flagship solar generator is ready to meet your alternative energy, off grid living, Tiny House and emergency backup power needs.
The SolMan Classic portable solar generator is an easy to move, all-in-one integrated unit. It is ready to point towards the sun on location and deliver efficient solar power for a variety of uses. This solar generator is built to last, rugged, durable and reliable.
SolMan Portable Solar Generator Additional Features
Easy to Use Integrated Unit: The SolMan Classic portable solar generator comes ready to go, for plug and play green power. No engineering or electrical skills are needed.
Silent Operation: Solar generators produce no sound whatsoever. The Classic won't bother your neighbors or you with gas generator noise.
Clean Operation: Solar generators don't need gas or cans to transport. There are no fumes or exhaust to worry about.
No Additional Costs: Once you buy a SolMan solar generator it doesn't cost anything else to run, as long as you can point it towards the sun.
No Recurring Gasoline Costs: Solar generators don't require tanks to fill up or oil changes.
Long Life Span: The SolMan Classic portable solar generator is designed to keep working for years if properly cared for. (10 year PV panel warranty)
Durable: Metal casing ensures the SolMan solar generator works in rigorous off grid conditions.
Weather Resistant: All the external plugs of our solar generator have covers and are set up for outdoor use, even in the rain. All critical components are inside and protected from the weather.
Transportable: With ramps, the SolMan Classic solar generator can go with you in the back of a small van, SUV or truck. It can be laid horizontal safely.
Mobility: 26-inch heavy-duty aluminum spoke and rubber bike tires with perfect balance allow the solar generator to be wheeled to any location for the best sun. Off grid and off road capable.
Solar Tracking: This portable solar generator can easily be turned throughout the day for maximum sun exposure and optimal PV energy input. With manual solar tracking, you can achieve up to 30-40% more total watt hours of solar input.
Versatility
The SolMan Classic portable solar generator is versatile and can be used in numerous locations to meet a variety of energy needs. Let us know how you see the SolMan being used on Facebook by clicking the image below.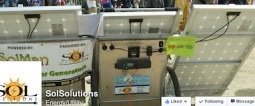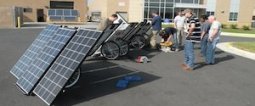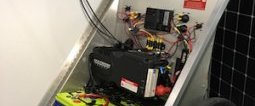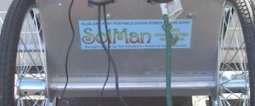 Source: www.sol-solutions.com