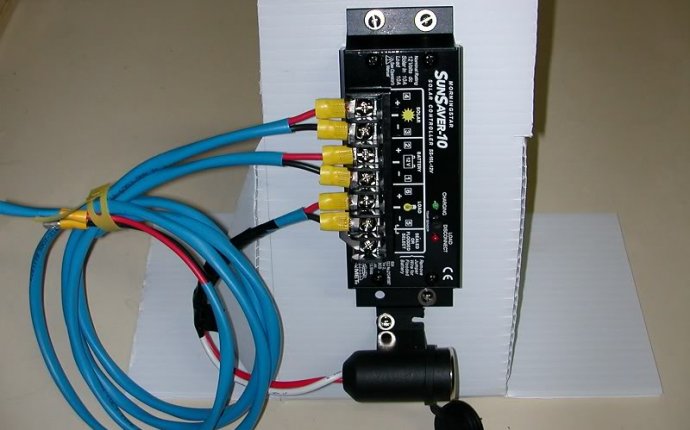 Solar Setups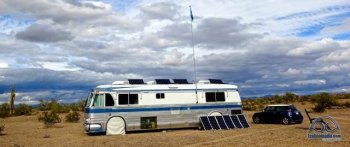 We started using solar on our RVs ever since we hit the road back in 2006. When we bought our bus conversion in 2011, we've been researching options for the right solar panel setup – and we know that a lot of our readers are extremely interested in this topic as well.
Our goal is to have enough solar & battery to be able to go for extended periods without needing to run a generator or connect to shore power . Our goal isn't to be entirely off-grid all of the time. We love variety!
We were able to accomplish this on our prior two rigs, but with the bus our challenge is the sweet vintage curved roof – which we have been reluctant to cover with traditional solid panels.
We put off installing solar waiting for flexible panels to become more widely available and efficient, which was fine as attending to some family matters kept us out east in RV Parks with prepaid electric for a couple years anyway.
During our research we've talked with many companies and asked lots of questions. But a clear winner wasn't emerging for us.
We were highly interested in the potential of flexible panels and tested panels for several months (see below) – but in the end we opted for a 800w roof setup with traditional glass panels installed by the fine folks at AMSolar.
The installation is attractive visually from the ground (with just a nice geeky hint of what is up there) and allows us to tilt the 'back' row of panels.. the front row generally remains flat with a slight tilt (given the curves of our roof) towards the sun. However, we rarely tilt given the hassle and risk of climbing up on our roof.
We then turned the flexible panels into a ground deployable setup for when parked longer term. In total we run 600w of flexible panels (we have panels in from Grape, Renogy and GoPower and are continuing to compare them head-to-head) on their own solar charger.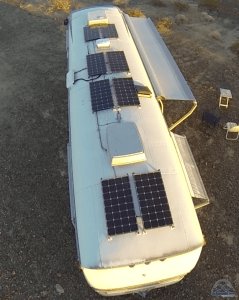 We're also playing around with building our ideal tilting stand out of PVC.
This gives us a total of 1400w to play around with when fully setup – which we find is plenty abundant to run both our large computer screens, electric marine 12v/110 Vitrifrigo fridge, cooking off electric (induction cooktop & convection/microwave) and even heating water off electric (on a sunny day, of course!).
When not fully setup, the 800w on the roof is a very usable passive amount of solar to keep us satiated with a little conservation.
Our hot water, radiant furnace and engine preheat is supplied by a Precision Temp Jr. hyrdronic (new in 2015) setup, which runs off propane or electric. We compliment the setup with a 2500w Onan Propane Generator (new in 2015), which is ideal for keeping the batteries topped up on cloudy days or running an AC with battery boost. Our boosting Victron 3000w inverter can supplement incoming power (shore, solar, alternator, generator) with battery to meet the demands of higher power draws, like an air conditioner.
The below section will continue to grow as we write and add on to this series of posts about solar for RVs. Keep checking back!
Disclaimer: This is a personal passion project to share these articles – they are uncompensated by anyone. Our gift to you. Except where noted, we have fully paid for parts and installation of our components. If these articles have saved you time, money or research – we do welcome your gratitude and/or contributions to our wine & dine fund ( 'Leave a Tip' at the bottom of the page.)
We are completely independent and non-affiliated financially with any manufacturers or solar companies mentioned. We are not dealers, consultants or trying to sell anyone anything related to solar, or setting ourselves up to be so.
Got Questions? Want guidance on Your Solar/Electrical setup? We simply don't have time to offer system advising anymore. Our focus these days is on mobile internet solutions, which keeps us working overtime most days.
Source: www.technomadia.com