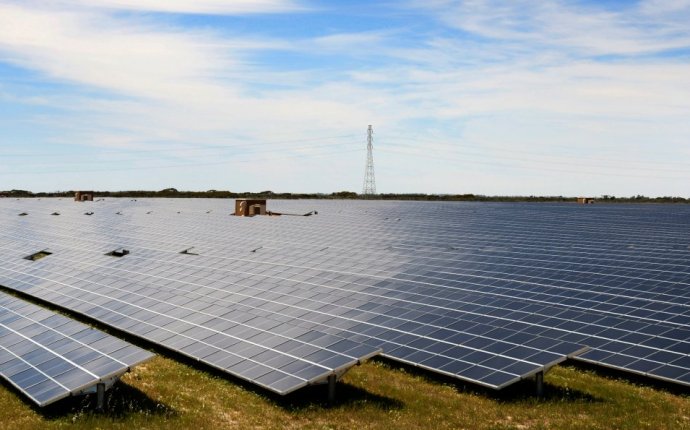 Best Solar Company in the World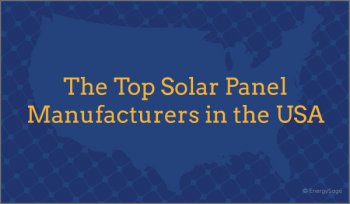 Who are the top solar companies in the world and in the USA? Industry analysts from IHS, SEIA and Renewable Energy World released their list for the year of 2015, based on updated shipping forecasts from each of the companies included.
The Top 3 Solar Manufacturers as of 2016
Currently the 3 best solar manufacturers in the world are Trina Solar, JA Solar and Hanwha Q Cells (respectively) determined by market share among panel manufacturing companies. The biggest solar companies are SolarCity, Vivint Solar and Sungevity (in order of market share).
There have been some major changes from 2014, including some new leaders in solar manufacturing who were once no names in the PV industry. Hanwha Q Cells is grabbing market share with a passion while Canadian Solar has slumped out of the top 3. The question for you as a solar shopper in 2016: should you care if your solar panels are made by one of the big 10 manufacturers in the world? Are American made solar panels truly the better product when the majority of manufacturers are located elsewhere? Here's our breakdown of the best solar manufacturers around the globe.
How to Compare The Best Solar Manufacturers in the World
Because manufacturer rankings are based on the total volume of solar panels that the companies ship by the end of 2015, being in the top position does not necessarily mean they offer the highest quality panel. Some of the smaller manufacturers specialize in premium products, whereas most of the larger manufacturers have gotten to where they are by either making a panel for the high volume market or by focusing their efforts on large-scale projects. That being said, a company's proven ability to produce and sell a large amount of product is testimony to its brand's credibility, engendering trust among consumers and installers alike.
The important thing for you to keep in mind as a solar shopper is the ability to differentiate between them to find the panel that best suits your needs and budget.
Under our system, panels are classified as Premium, Standard or Economy based on standard criteria. If you're interested in learning more about how panels are ranked, visit our Solar Buyer's Guide. When it comes to metrics like solar panel efficiency, the simple cost per watt of a single solar panel is not a unit of measure that can stand on its own. It's important to understand the conversion potential of your panels as a way to decide which brand to go with. SunPower, for example, is heralded for its impressive conversion efficiency which has regularly fluctuated over the past 10 years for holding the world record. That being said, SunPower panels are much more expensive than a cheaper brand such as Canadian Solar and thus the size of your system and panel output will help you decide what will generate the most solar savings and most immediate payback period.
Where are the Best Solar Panels Being Made?
The simple answer to this commonly asked question is East Asia, and you will notice that the majority of the top ten manufacturers are Chinese as the bulk of global solar panels are manufactured there. East Asia has become the solar manufacturing hub of the world and the latest emerging trend is that companies outside of China are starting to have success. Two Taiwanese companies made the cut for 2015 compared to none in 2014. You could call it a shock that only half of the top ten global manufactures were Chinese companies this time around. Two North American and one South Korean company also made the cut this year.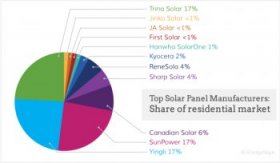 As we've noted before, however, a panel's country of manufacture is not usually the most important consideration for someone going solar. Instead, most people will find a balance between cost and quality, with a panel's country of manufacture being a secondary consideration – a possible deal-breaker. For some homeowners, the importance of energy independence is a major factor when considering what brand of panels they would prefer. Though we at EnergySage support American companies and sustainability of the U.S. nation, we do recommend getting advice from your installer and considering their suggestions. After all, they will have the most up to date experience with long term efficiency, maintenance and durability of various solar panel brands and will also know which models are most popular on the market.
The Top 10 List of Residential Solar Panel Manufacturers
A big part of calculating solar panel quality is understanding the metrics and factors that determine it such as module efficiency and performance. Check out this solar panel analysis to better understand significant characteristics that will impact your solar panel performance. To give you an idea of how the top-ranking manufacturers stack up against one another in terms of quality, we've displayed the top-ranked solar energy companies below next to their EnergySage quality ranking. As can you can see, only one of the companies – SunPower – achieved more than a 'Standard' ranking. But none of the companies included an 'economy' ranking – suggesting the listed companies may not have grown to their current size without having at least mid-quality products.
Also notable is the fact that not every company that made the IHS list has a significant share of the US residential solar power market.
Table: Best Solar Panel Manufacturers 2015 – Global ranking by volume, US market share & EnergySage quality ranking
2015 Rank
Company
Change from 2014*
EnergySage quality ranking
Headquarters
Standard
China
JA Solar
↑3
Hanwha Q Cells
↑6
South Korea
↓1
N/A
Canada
USA
Jinko Solar
-↑
Yingli Solar
Motech Solar
Taiwan
NeoSolar
10
SunPower
Premium
Source: news.energysage.com