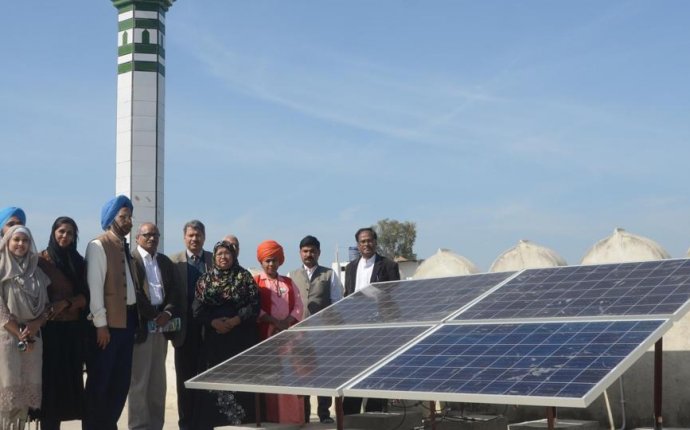 Switches to solar energy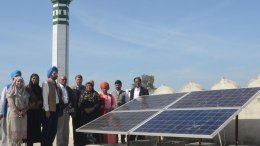 The solar power grid inaugurated at Ambar mosque. (HT Photo)
Standing outside the city's only all-women mosque on PGI Road here, Shaista Ambar said, "Mehtaab ghar mein aftab utar aya hai (The Sun has dawned on the house of the moon)." The founder president of the All-India Muslim Women's Personal Law Board was referring to the inauguration of a solar power grid at the Ambar mosque on Tuesday.
This rooftop 1kW solar power installation is an on-grid system that doesn't require batteries. Its estimated annual production is about 1, 400 units, which accounts for 75% of its energy consumption.
While initially the plan was to make the mosque 100% solar, that could not be done as the sanctioned load of the mosque is only 1kW. "We were limited by the regulation that says we cannot exceed the sanctioned load or the contracted demand. There is a plan to have another building at the mosque. When that happens, we will apply for an increase on the meter, " said Shaista.
The way the solar power system works, any excess energy that is produced is fed back to the grid so that the consumer is given solar credits.
These credits are directly adjusted against the units issued by the distribution company in the monthly electricity bill.
"We decided to install solar panels to power the mosque and reduce its dependence on electricity produced from highly polluting sources such as coal. Our focus is on clean energy, " she added.
Shaista established the mosque in February 1997, in defiance of the alleged patriarchy existing within the community. "The mosque helps women of the community deal with issues such as talaq, helps in educating girls, and provides medicines among other initiatives. Though it started as a women's mosque, men are also allowed to offer prayers here, " she said. "It's a beautiful campus. People from other religions are also welcome to come here. They can get to know about Islam and understand its true message of universal brotherhood, " said Shaista.
Cost effective
Typically a 1kW system solar power system will cost the consumer anywhere from Rs 1 lakh to Rs 1.2 lakh. However, 8minutes, the company that manufactured the system, donated it to the mosque. With this, the Ambar mosque will make about Rs 7, 000 worth of annual savings on its electricity bills - more than 70% of its annual electricity expenditure.
Environment impact
By switching to a renewable source of energy, the mosque will offset 1 metric tonne of carbon dioxide every year (equivalent of driving a car for 3, 810 km or burning 965 kg of coal, or the amount of carbon stored by 26 tree seedlings for 10 years!)
Source: www.hindustantimes.com