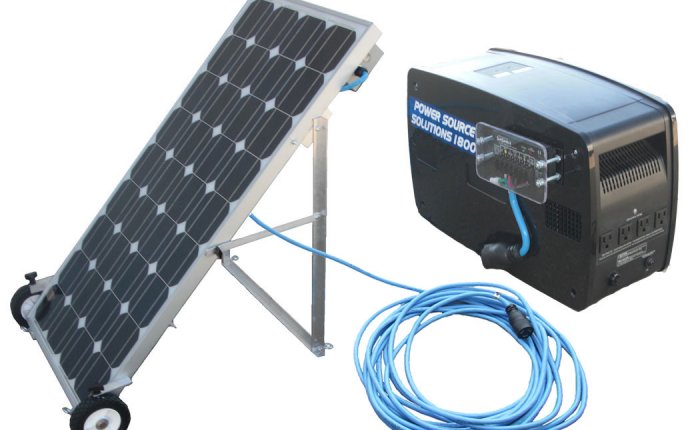 Easy solar power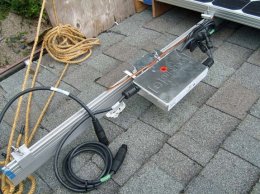 Green and clean energy have become such popular buzzwords that the mainstream public is becoming aware of sustainable alternatives to traditional energy sources. Solar is one such alternative. Unfortunately, with a tough economy and bleak job market, most people feel they don't have the money to invest in solar. Luckily, cheap and easy solar alternatives do exist. Here are 5 options that won't break the bank! Feel free to add to the list using the comment feature at the end.
Affordable Grid Tie Kits are Great for Do-It-Yourself Homeowners
Thanks to rapid advancements in inverter technology, you can install a solar grid tie kit onto your home for far less then ever before. Though at one time it cost a minimum of $10, 000 to install a small home system using micro-inverters and 200W panels, homeowners can now install a single panel and inverter for only $1000.
Homeowners slowly build their system by adding panels on a regular basis, such as on Earth Day, or as their budget allows. The new technology saves solar energy enthusiasts from spending a fortune all at once. You could start with a 230W system, add a panel every 3 months or as your finances allow, and have a 4000W system that covers your entire power bill in just a few years. It's never too early to start, especially with the price of electricity fluctuating and rising over time.
Solar Leasing Programs often Cost Nothing to Start
Now that solar has become a viable investment, companies such as Sunrun have created leasing programs to help homeowners get started in renewable energy.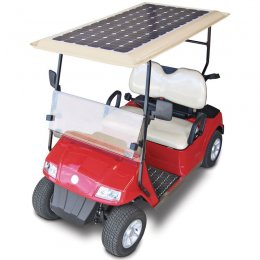 Here's how it works:
A local installer works with a solar financing company like SunRun to evaluate the suitability of your home for solar.
If your situation is right, the financing company will pay the installer to put the panels on your home, usually at no cost to you.
The financing company owns and maintains the panels, and receives any rebates associated with the installation.
You get charged a fixed, discounted rate for your electricity for the life of the lease, usually 20-25 years.
You save money in the short term from the discounted and fixed rate. You also avoid the inevitable rate increases that will come as carbon taxes and renewable subsidies become more prevalent.
You can choose to purchase the system from the financing company and reduce your energy bills to nearly zero.
Whether you buy or lease solar panels, you will get the satisfaction of knowing that you are saving money and helping the environment at the same time.
Simple RV, Boat and Golf Cart Systems are Affordable and Functional
Solar panels are not just for rooftops. Boats, RVs, and even golf carts are great candidates because they are easily upgradeable and are usually used on sunny days. Solar panels generate direct current (DC), the type of power most boats and RVs require. Adding a simple panel and charge controller to the system will keep the batteries charged, save the expense of charging batteries, and allow you to stay out longer and go farther. Furthermore, trickle charging traditional lead acid batteries such as those found on golf carts, boats, and RVs is one of the best ways to extend battery life.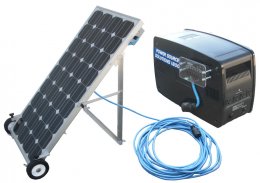 In most cases, the panels will allow you to get rid of the generator or shore power that you previously relied on. For southern climate dwellers who use golf carts or neighborhood electric vehicles (NEVs) in lieu of traditional vehicles, a 200W solar golf cart kit means you can say goodbye to the power cord and hello to lower energy bills. Starter kits can go for as little as $100, and larger units for approximately $1000.
Take your Electronics and Other Stuff "Off the Grid"
It wasn't long ago that solar power systems were so complicated that electricians were needed to install them. Thanks to portable solar panels that is no longer the case. Plug and play solar power kits like the Solio and HYmini allow you to gather, store, and use the sun's energy from anywhere. Larger systems work much the same way a computer does–you simply plug the panel into the control box just as you would a computer monitor, then plug the control box into a battery as you would plug a computer into the wall. At that point you simply plug your stuff into the control box the same way you plug into a 220V wall socket.
This system works great for remote cabins, work sheds, or garages. Often people who live in hurricane country keep them for backup power during tropical storms. They're great for campers and travelers who have added laptops, iPhones and stereos to their "must have" list when they're in the backcountry. These kits can be had for as little as $300 and are expandable.
Make your Live-Work Space Brighter and More Comfortable with Sun Power
Solar lighting sometimes gets a bad rap when people liken the technology to cheapy solar garden lights that you might find at WalMart. That's no longer the case. There are, believe it or not, great solar lights out there that produce ample light, are high quality, and look terrific. Many municipalities are abandoning their expensive gas lamps in favor of solar. Consider the effort involved in connecting just one light to the existing grid. All that extra digging and splicing adds a lot of cost and energy. A nice solar lamp post light can replace the gas lamp, spruce up your yard, and catch the interest of your neighbors at a cost of lessthan $200!
Source: www.solarpowerauthority.com