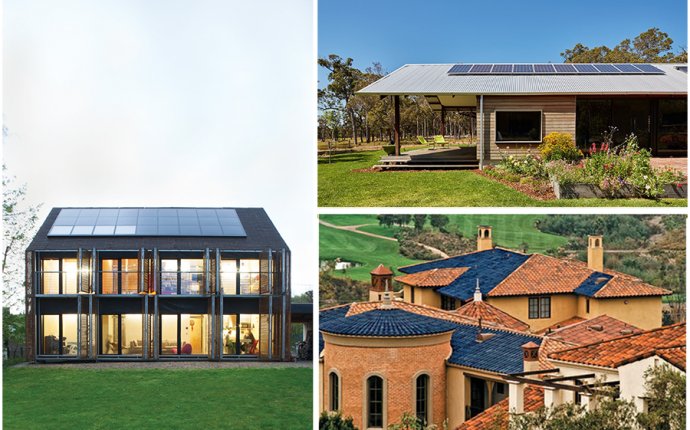 best roof solar panels
Installing solar panels on a roof is a very popular trend - and growing in popularity. One of the most overlooked aspects of this type of upgrade to a home or business is the type of roof material over which the new solar panels will be installed. Does it make sense to anyone to attach an expensive, hi-tech solar collection system to a roof that won't last as long as the panels? I can't imagine anyone answering that question positively, but I see it all the time. Bad enough that some solar panel installations are installed on new roofs with a proven poor track record (asphalt composition, anyone?), but it has to be even less rational to install a new solar system on an older roof that isn't far from the end of its service life.
I recently helped specify a roof replacement for a client who had a very expensive solar electric panel array installed on her eight-year-old asphalt shingle roof about 10 years ago. Now she needs a new roof in addition to the cost of removing and re-installing her solar panels, which is in the neighborhood of $6, 000!
An even more obvious issue is the potential for leaks caused by the installation of solar roof panels. There are a few roof covering materials that can accept the mounting hardware without creating penetrations - and resulting leak points. Metal roofs, and some concrete tiles, are examples of roofs that can be configured so that the mounting hardware can be installed in such a way as to hide, or eliminate altogether the point at which the fixing point of the solar hardware is attached to the roof structure. Contrast that with a composition roof where holes have to literally be punched through the roof to affix the panels. Not the best solution. And even though solar panels are not particularly heavy, they do add load to a roof structure. So the fact that metal roofs are typically 1/5 the weight (or less) of concrete means they are the best type of roof for any roof-top additions like solar panels.
To summarize:
If you can possibly avoid it, don't make the mistake of attaching new solar panels to an old roof.
When installing new solar roof panels on an existing home or building, consider replacing any roof older than 10 years - especially if it's an asphalt shingle roof.
Pick a roof to which solar panels can be mounted without leak-prone holes in the roof material.
When installing a new roof at the same time as a solar array, choose a material that will outlast the new solar system.
Metal roofs are the lightest, longest-lasting roof materials, and can accept solar panels without having holes punched through their protection.
Installing a good quality metal roof before your new solar power system is mounted will mean never having to replace the roof.
If you're considering mounting a solar panel system on top of your home or building, be sure to consider the roof over which it's to be installed. Your solar panels will provide clean, safe energy for decades - make certain you don't undo their benefit by placing them over a roof that will need to be torn off and dumped in a land-fill, thus undoing a big chunk of the earth-friendly benefit of your solar upgrade!
Source: www.metalroofnet.com