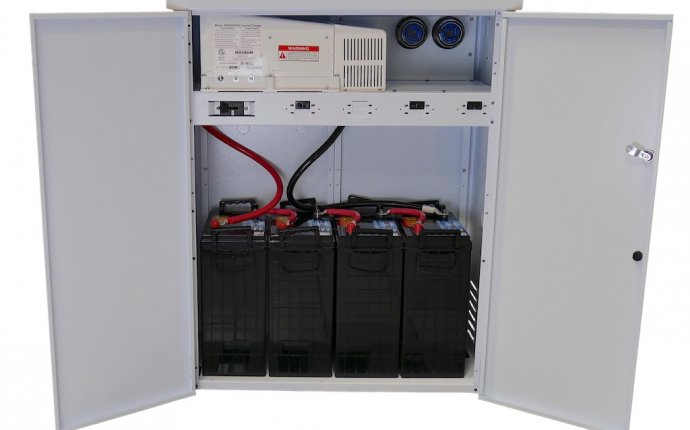 backup solar power kits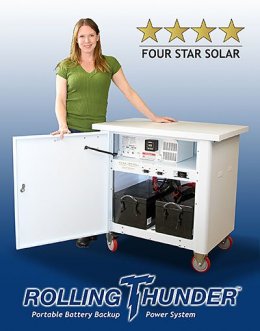 Keep Critical Loads On During Power Outages
Millions of homes have been left without power this winter when severe ice and snow storms swept across the country. Don't let power outages leave your family in the dark or grind your business to a halt!
Be prepared for unexpected emergencies with battery-stored backup power for your:
Lights
Refrigeration
Fans
Cell phones
Sump pumps
Security systems
More!
The Emergency Backup Power packages keep your home or business powered up when the grid is knocked out by blizzards, ice storms and other natural disasters.
Battery Backup Power can also be added to an existing grid-tied solar power system. Any of the systems below can work alongside your existing gridtied solar system.
Four Star Solar Emergency Home Battery Backup
The systems below can be charged by regular utility-provided electricity, by wind or gas generator, or by solar panels. These packages include attractive, lockable white powder coated steel battery enclosures. The products below provide backup power stored in batteries that can be charged and re-charged by the grid, by solar panels, or by generator.
Tips for the Do It Yourself Installer*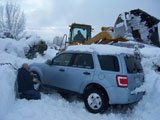 When planning your back-up power system, be aware that the back-up power can be sent to a sub-panel. The two panels may be connected through the inverter in the battery back-up system. You will have an AC line coming from your main service panel which is connected to the "AC in" on the back-up system. The "AC out" is then sent to the sub-panel only, not back to the main panel.
During a power outage, power will be supplied only to the backed up sub-panel, not to the main panel. This requires that you relocate specific circuits that you wish to have powered when the grid is down, to the new sub-panel. This is best accomplished by a licensed electrician.
Caution!!
The reason for wiring critical loads into a subpanel is twofold First, if you were to send the "AC out" from the back-up system to your main panel, you would be backfeeding a "down" grid. This is illegal and dangerous. Secondly, when the grid is "up", power will be flowing, unregulated, back through the "AC out" connection on the back-up system and could damage your electrical system.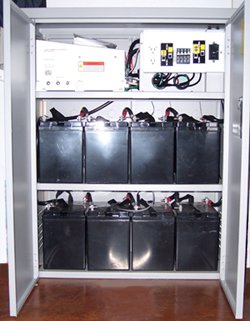 When the grid is "up", power will flow from the main panel through the battery back-up system to power the loads / circuits in the sub-panel. This power is limited by the power transfer capability of the inverter. If you need more current transfer capability for your backup up loads, you can parallel multiple inverters to increase the current flow. Wholesale Solar's technicians can pre-wire and test the inverter system in-house, before shipping, to insure that you have enough power.
*Does not apply to Rolling Thunder units
"Intense Winter Storm Left Us Without Power" A Cautionary Tale by Mark & Ellen Coleman
"Intense winter storms in January 2010 left us with 4 feet of snow and no power, water or heat. Our passive solar house with a gridtied solar electric system works great when there's sun. Doesn't work at all when the utility power is down.
Of course, the irony of the fact that we sell battery backup systems and, in fact, have a warehouse full of the parts you need to set up these simple lifesavers hit us smack in the face. Oh well, oh well.
The first couple of days with no power were okay. We moved stuff from the 'frig to a cooler out in the snow. Our house held its heat pretty well, and we could cook on the propane fed kitchen stove. But by the third day of no power, the bedroom temps were around 40 degrees at night. Brrrrrrrrrr! Unlike many of the homes in this area, we do not have a wood-burning stove. Our hydronic baseboard heaters rely on electricity to power a pump. Time for action!
Source: www.wholesalesolar.com