solar electric system design
Energy Design is an electrical contracting company, specializing in the design and installation of solar energy systems.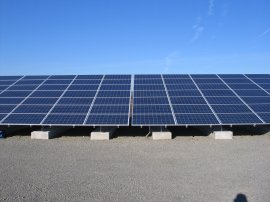 We offer:
Comprehensive site analysis
Custom engineering, design and fabrication
Assistance with solar tax credits & utility incentives
Five year warranty on parts and labor
System maintenance
Off grid solar design & maintenance
Hybrid system design (battery backup and multiple input systems)
RFP technical writing & design for public and commercial projects
USDA REAP Grant technical support
Our guarantee that systems will perform optimally and efficiently
Vince McClellan, president and lead designer for Energy Design, has over 30 years experience in the field of photovoltaic design and installation in Oregon, Hawaii & California. Vince and Eric Morrison founded Energy Design in 2004 in Eugene while Vince was teaching renewable energy systems design at Lane Community College.
As an Oregon solar contracting company, Energy Design has completed projects for utilities, universities, city governments, public schools, businesses and home owners. Our record of reliability and service has allowed us to thrive in an increasingly diverse contracting environment.
Source: www.solarenergydesign.com