Solar Electric Power
Solar has never been more affordable. Install a PV system and get up to 30% of the cost covered by our rebates!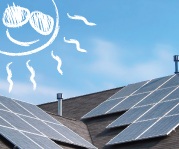 Silicon Valley Power is offering incentives to make installing and generating electricity from PV systems more affordable for you. These incentives are in the form of rebates to Santa Clara residents and businesses for new installations of photovoltaic (PV) systems.
Residents are eligible for a rebate for installing a PV system which meets their existing load up to 10 Kilowatts (kW) AC in size. Rebate amounts will be reduced as SVP reaches installation targets.
See the following table for schedule and current rebate level.
Residential Rebate Schedule for PV Systems under 10 kW
Residential
Installed Capacity kW
kW Available per Rebate Step
Rebate $ / Watt AC
kW Remaining in Current Rebate Step
200
200
$4.50
400
$3.75
600
$3.00
800
$2.50
1000
$2.00
1200
$1.75
1500
300
$1.50
2000
500
$1.25
2500
$1.00
490
3000
$0.75
Program Requirements
All PV modules and inverters must be on the State of California Energy Commission list of eligible equipment. Please see the CEC list of approved PV modules at the Go Solar California's website.
The system must come with a minimum ten year warranty against breakdown or degradation beyond 15 percent of the original system rated electrical output during the warranty period.
The system must be installed by a licensed contractor, unless installed by the SVP customer.
The system must be installed in accordance with all applicable building and national electric codes.
The system must be connected to the grid and you will be switched to a net metering rate.
You must execute an Interconnection and Net Energy Metering Agreement with the City.
You must agree to future inspections of the equipment to verify PV system performance.
Prior to installation, you must have received an energy audit by SVP within the last two years to identify all other energy efficiency opportunities in addition to PV.
Approval is at the sole discretion of Silicon Valley Power, pre-approval is required.
Arrays between 300 degrees and 60 Degrees are not eligible for rebate.
Arrays with a design factor less than 90% will be de-rated.
Shade analysis is required for all arrays.
Steps to Receiving your Rebate
Select a qualified PV contractor and an eligible PV system to purchase.
Complete and submit your application before installing your system, to reserve your payment.
SVP will review your application and contact you when application has been approved. Once approved, your system must be installed within twelve months.
SVP will issue your rebate payment within four to eight weeks of receiving your invoice and final building permit.
The fax number to send the completed form is 408-244-2990.
The mailing address to send your completed form is:
Solar Electric Rebates
Silicon Valley Power
881 Martin Avenue
Santa Clara, CA 95050
If you have any questions, please call the Energy Conservation Hotline - 408-244-SAVE (7283).
Source: www.siliconvalleypower.com