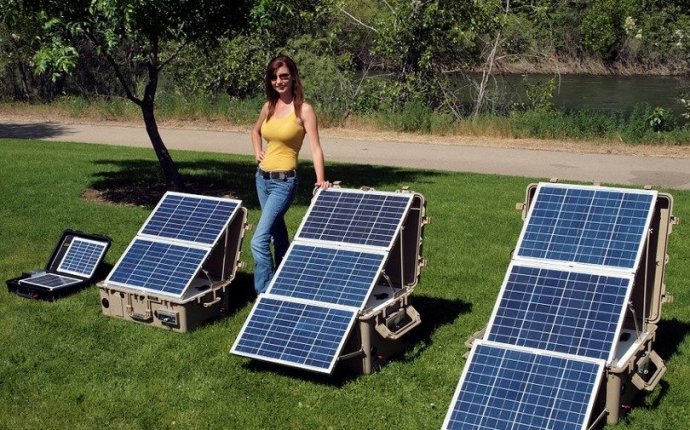 Best solar Power Panels
Pocket too small to hold extra cords and accessories
Time and time again, the Anker 21W panel was the panel we reached for to quickly charge any device in the field. It outperformed every other contender in most categories and charged our gadgets reliably when we were far from a power source. Anker has been creating durable, easy to use panels for years, and this year the 21W took the cake for our Editor's Choice since it had all the same qualities as last year's winner, the Anker Powerport 15W, with even more power! The Anker 21W has PowerIQ technology, which delivers a smooth, steady charge to devices through its two, high amperage USB ports. Anker continues to be a leader in solar panel technology with this trusty and intuitive panel. Are you are interested in the Anker 21W, but aren't sure about throwing down for such a large solar charger? Look no further than the Anker 15W, which is an efficient, lighter-weight version of this award-winning panel.
Read full review: Anker PowerPort 21W
Instapark Mercury 10W
Light
Inexpensive
Simple
Can charge two devices at once
The Instapark Mercury 10W is a durable, reliable, and efficient workhorse of at a low cost. As a 10W panel, it's on the bottom end of the wattage spectrum in our fleet of panels, but held its own charging phones and small devices. If you're looking for a durable, long-lasting panel for simple charging tasks at a reasonable price, then the Mercury 10W is for you. This panel has a large, easy to access external pocket to store all your electronic accessories, which is crucial for protecting your gadgets when charging in the great outdoors. As an added plus, the Instapark Mercury 10W rings in under $50, which is a bargain for such high-performance panel.
Read full review: Instapark Mercury 10W
Renogy E.Flex5
Lightweight
Simple design
No pocket
No protective cover for panels
Single USB port
While most of the nine panels we tested came within ounces of each other on the scale, the Renogy 5W blew the competition out of the water when it came to weight and portability. This sleek little panel weighs only 5.6 oz, whereas all the other panels fell between 12 and 16 ounces, and is about the size and thickness of a small clipboard. It is durable and easy to clean, as well as being water resistant. Unlike the other panels with a protective canvas outer covering, the Renogy has a barebones, simplified design that keeps it lightweight. It's a great alternative to the smaller, battery-included panels we tested last year, combining lightweight design and portability with effective charging capabilities. For simple charging tasks, like keeping your phone battery full on a backpacking trip, the Renogy is a good option.
Read full review: Renogy E.Flex5
Analysis and Test Results
Now more than ever, solar technology is growing in popularity and we have many well-tested options when shopping for a portable panel. Traveling around the southwest US during this testing period, we saw large solar arrays, of the grid homes with panels outside, to campers charging their smaller devices on the go. Not long ago, it was difficult to find a rigid, monocrystalline panel in a foldable, light design. Portable panels were bulky, finicky, and didn't last long when exposed to the elements. Now, dozens of companies produce affordable, effective monocrystalline panels ranging from small 5W panels to larger and more powerful 20W panels for a faster charge. These monocrystalline panels are much more effective and lightweight than their polycrystalline forefathers.
Here are the nine panels catching rays under the watchful eye of Castleton Tower in Southern Utah.
Last year's favorite, the Anker Powerport 15W is constructed with industrial-strength PET polymer panels, making super-durable and able to charge devices quickly and efficiently. This upgrade sent the Anker 15W to the top of its class last year and remains a top contender this year as well. The PowerGreen 21W use the same PET Polymer facing, making it an extremely durable option as well.
Folded up, the panels range in size from the large X-Dragon on the left, to the Goal Zero and the Renogy which have much smaller footprints.
We tested small wattage panels that were portable, like the Renogy 5W and the ever-popular Goal Zero Nomad 7. Then, we re-tested some of our favorites from last year, including the Instapark Mercury 10W panel and the Anker PowerPort Lite 15W. We also chose some panels with some extra wattage for faster charging, these panels include the
PowerGreen 21W
, the Anker 21W, and the X-Dragon High-Efficiency 20W panel. Solar panel technology is improving overall. Every one of these panels performed well, their metrics ratings ranging mostly due to their output capabilities (i.e. Wattage), rather than the design of the panels themselves.
Charge Interruption Recovery
Is your panel going to quit on you just because one tiny cloud passes overhead as you left it out on what appeared to be a cloudless afternoon? Or is the solar panel strapped to your backpack causing your phone to constantly vibrate as the connection goes in and out from the panel's USB port? These are the questions we addressed in our charge interruption recovery metric. To test these panels, we measured amount each panel charged within a half hour span first in full sun, and then again in intermittent sun and shade. We also measured the output power of each panel before and after the charge interruption to see if the panel could get back on track after being shaded.
The highest performing panels in this category were the panels with larger wattage, especially the Anker Powerport 21, our pick for Editors' Choice. The Renogy 5W scored low in this category because it has a low wattage. This makes it more difficult for the Renogy to return to full output after an interruption. Panels with larger surface area also tended to do better in this metric, because there is more cells exposed to the sun at one time. This is a benefit of the Instapark Mercury 10W, which unlike the other two medium watt panels, has three panels of cells, rather than two.
These are the types of conditions we wish for when charging electronics using solar power.
Charging Speed
The majority of the time, these solar panels are being used to charge cell phones when electricity is not available. Because this is typically the case, our highest rating metric in testing was Phone Charging Speed. We wanted to know long it took each panel to charge an iPhone 6 (the main phone used for testing) as well as our small external battery packs. We set the panels out in the direct sun for 30 minutes and measured how much the phone charged.
Source: www.outdoorgearlab.com