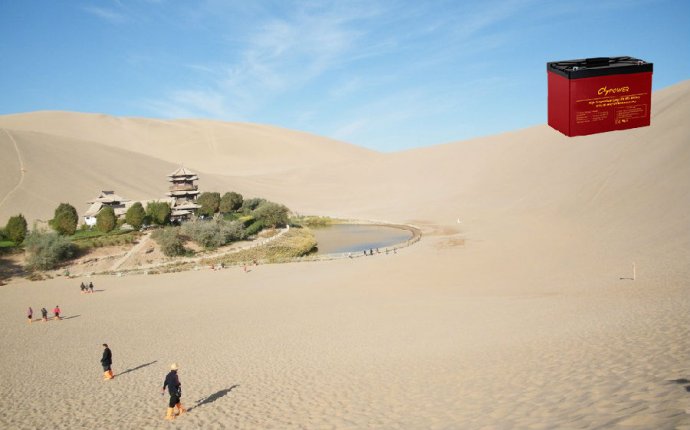 50 cents per watt solar Panels
Vertically integrated Chinese solar manufacturer JinkoSolar announced its "third straight quarter of profitability" along with net profitability for 2013 with a Q4 gross margin of 24.7 percent. Even some Chinese module makers are seeing good days return.
The company had a great quarter with strong margin and geographical diversification - but the more interesting news came from Arturo Herrero, Jinko's Chief Strategy Officer. During Monday's earnings call, Herrero noted, "Basically, if you look at our Q2 to Q4, our ASP is around $0.63. Our non-silicon cost is, I think, $0.39, and plus the silicon cost of $0.09, it is around the $0.48 mark."
Shyam Mehta, Senior Solar Analyst at GTM Research, notes, "I believe this is the first time in human history that a module company has recorded cost under 50 cents per watt - although the cost may go back up a bit in 2014."
In fact, a forecast from one of Mehta's recent reports shows top Chinese manufacturers making solar modules for 36 cents per watt by 2017. "There was a reaction from some people that our projection for 36 cents per watt is crazy. To that, I offer the point that our forecast only implies an annualized reduction of 6.3 percent from 50 cents a watt today, " he said. "It's not exactly a game-changer; it's 14 cents. But the industry has had a mental block because people didn't think we could produce modules for less than 50 cents per watt."
First Solar recently reduced the cost of its cadmium telluride-based PV panels to 63 cents per watt, falling to 53 cents per watt in the fourth quarter of 2013 on its best line (excluding underutilization and upgrades).
The U.S. DOE SunShot Initiative, which has the aim of reducing the all-in cost of solar power to less than $1 per watt, counts on module costs of less than 50 cents per watt.
Prof. Mike McGehee of Stanford University doesn't hold the view that silicon can achieve these costs. In a lecture yesterday, he suggested that the true cost of silicon solar cells, when stripped of Chinese subsidies, is 85 cents per watt. Brad Mattson, the CEO of Siva Power, claims that the prices put forth by Mehta are "completely unsustainable, " based on his conversations with Chinese solar CEOs. Mattson's estimates of silicon solar costs are close to those of McGehee. SolarWorld is making the case that Chinese solar module manufacturers receive unfair subsidies and sell product below cost in the U.S.
Here are GTM's projections for a Jinko-type supplier: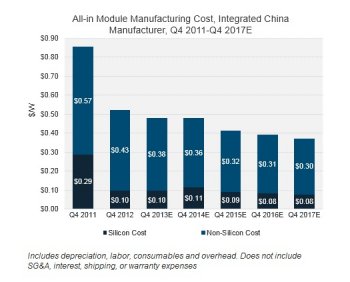 Source: Global PV Competitive Intelligence Tracker
Source: www.greentechmedia.com