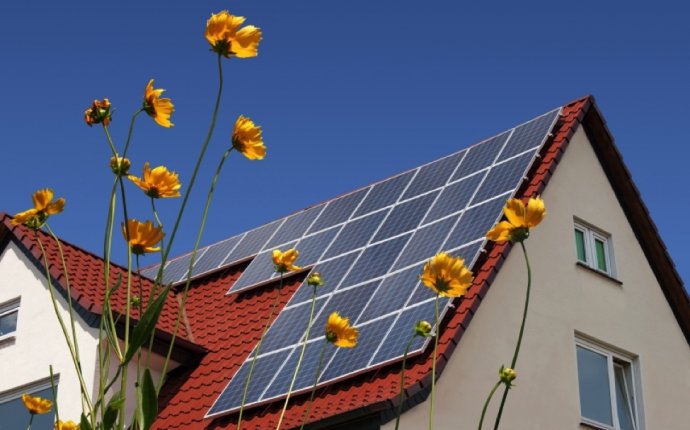 Home Solar DIY
If you go with crystalline modules, solar module racking (the bits and pieces that hold your panels in place) may be the most important part of your project. Here, we'll discuss a few things to keep in mind while you determine where you want your solar panels to go. If there's too many obstacles to crystalline panels, you'll definitely want to consider thin-film instead.
Roof Mounting
Roof mounts are especially great since they're aesthetically pleasing and don't take up any space in your actual yard. There's a lot to consider with roof mounts, however. Most importantly, you'll need to think about the actual strength of your roof. If you live in an older house, you might have to get your roof redone before you can start bolting PV panels to it. Thirty panels weighs an awful lot, and it'd be a shame to have the whole thing come crashing down into your living room. Besides the strength of your roof, you'll need to make some decisions as to whether it's the most effective location.
Your goal is to expose the solar panel to as much sunlight as possible. First and foremost, this means you need to avoid shade - one panel in the shade can affect the efficiency of the entire system. Be sure to keep details in mind: Will the neighbor's big oak tree grow in the next ten years? Will something that's out of the way at this very second be casting a shadow later in the day? You also need to consider the qualities of your roof. In order to get the most direct sunlight, your panels should point towards the equator (South, in the Northern hemisphere) - will your roof accommodate this? And is the roof big enough to hold your panels? Another, more obscure consideration is your homeowner's association. Some people think solar panels are an eyesore (personally, I think they make your house look great) and may have banned them in your neighborhood.
If it looks like a roof mount isn't the best idea, you have nothing to worry about. If you're concerned that your roof isn't stable enough for thirty crystalline panels, you may want to consider thin-film. If your roof has too much shade, you can still rack the panels in your yard.
Ground Installation
Ground installation is very easy, since you don't need to spend the day mucking about on your roof. Ask yourself if you have the land to sacrifice for the panels, and again, pay attention to details when you're picking the site. Two not-so-obvious considerations are soil and wind - You don't want your big, expensive solar array to be sucked into a sinkhole, and you don't want it to blow away like a giant sail. One of the big advantages of a ground install is that you can have the panel on a pivoting pole, so that it follows the sun. These movable mounts are expensive, but they'll significantly increase the output of your system.
Now that you know what panels you want and where to put them, things get pretty easy from here on out.
Further Reading:
Source: www.instructables.com