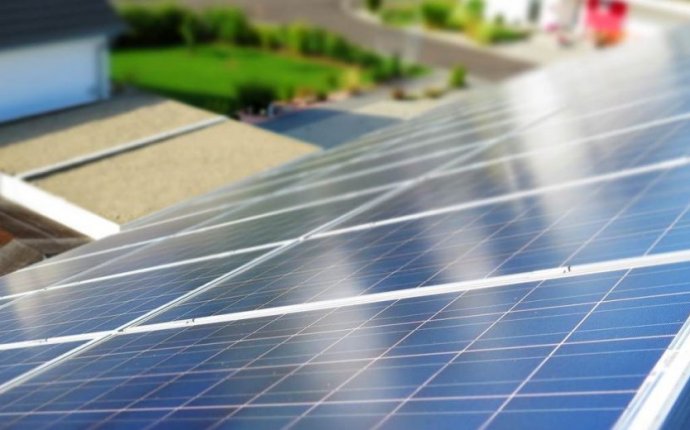 Find Solar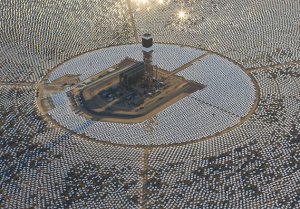 BrightSource Energy, Inc. A solar power plant in the Mojave Desert.Slide 1 of 8
A rooftop dotted with solar panels isn't unusual anymore. And many recall calculators and watches powered by sun rays.
But how about a bike path that puts in overtime as a solar-power system, or a plane that ambitious pilots want to fly around the world using nothing but solar power?
Here are some of the most unexpected places you can find solar power these days, including a solar plane on its way around the world.
Getty Images Slide 2 of 8
Solar-powered plane
Solar Impulse 2, a solar-powered plane, took off on March 9 from Abu Dhabi, in the United Arab Emirates, on its first attempt to fly around the world, with stops, using nothing but solar power.
It landed in Chongqing, China, on March 30, arriving from Mandalay in Myanmar. Another stop in China is planned, in the city of Nanjing, before the plane takes off to Hawaii and then to the U.S. West Coast.
It's not going to be the plane's first time in the U.S. The plane flew from San Francisco to New York City, making multiple stops, over two months in the summer of 2013.
The wingspan of this carbon-fiber aircraft is 72 meters, or about 230 feet — longer than that of a Boeing 747. More than 17, 000 solar cells are built onto the wing, and the cells supply power for four electric motors. During the day, the solar cells recharge lithium batteries.
For the flight around the world, pilots and project leaders Bertrand Piccard and Andre Borschberg hope to return by late July or early August. The project has been financed by several companies and public entities, including elevator and escalator provider Schindler Holding AG SCHN, +0.00% and chemical group Solvay SA SOLB, -0.70%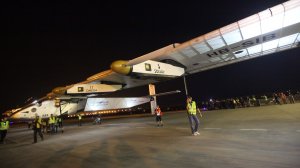 Solar Impulse's planned stops also include Phoenix, Ariz., a still-to-be-determined city in the Midwest, and New York.
The final leg will include a stopover in southern Europe or North Africa before the return to Abu Dhabi.
SolaRoad Slide 3 of 8
Solar bike path
This Dutch bike path acts like one large solar panel. Called SolaRoad, it's 70 meters (about 77 yards) long. The owners, a consortium of Dutch companies and a Dutch provincial government, unveiled it late last year and want to extend it to 100 meters in the next two years.
Standard silicon solar cells are sandwiched between prefabricated concrete slabs, 8 feet by 12 feet in size, and a layer of tempered glass less than half an inch thick. People bicycle on top.
One technical challenge was to make that top layer translucent enough and as free of dirt as possible to soak in the sun's rays, but at the same time be skid-resistant and strong enough to be a safe road surface.
Since the solar bike path was opened in the fall, it has generated more than 700 kilowatts of solar power, in line with expectations. The goal is to eventually produce enough electricity to power two to three households in a year, said SolaRoad spokesman Sten de Wit.
A small portion of the top layer came off due to frost and a production flaw and was repaired in January. The glass itself remained intact, and the owners are working to redesign the top layer in order to avoid future problems, de Wit said.
The bike path took five years and cost 3.5 million euros (about $3.8 million) from development to installation. The owners want to take what they learn with the bike path to small roads and specific applications such as bus lines.
Bigbelly Slide 4 of 8
Solar trash cans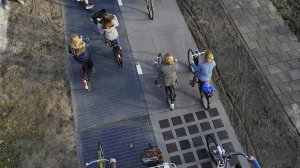 Ready to talk trash about solar?
Bigbelly Solar Inc. of Newton, Mass. sells solar trash and recycle compactors, which are powered by solar cells. It has roughly 30, 000 bins in cities like New York, Chicago, Berlin and Amsterdam.
Solar panels atop each trash can power a battery, and the compactor can work for more than 72 hours without sunlight.
The containers are also "smart" — they use cellular data to communicate with the company's servers — and issue an alert when they need to be emptied. That can save money by eliminating unneeded trips to take out the trash.
A Bigbelly spokeswoman said the cost of the trash cans and system monitoring varies by site, depending on what's needed in each location.
Planet Solar Slide 5 of 8
Solar boat
The MS Turanor PlanetSolar is the largest solar boat available, at 35 meters long (about 115 feet). The catamaran relies exclusively on solar panels that supply six lithium-ion batteries. With a full charge, it can navigate for 72 hours in complete darkness, according to its website.
The boat, built in 2008 in Germany for about 12 million euros ($13 million), is owned by Immo Stroeher, a German entrepreneur and solar-power advocate. Turanor did a world tour in 2010, leaving Monaco and returning there 584 days later after 52 ports of call.
The name Turanor, derived from a language invented by "Lord of the Rings" author J. R. R. Tolkien, means "power from the sun, " according to the boat's website.
The boat, initially envisioned as an ambassador of solar power, has more recently been used as a scientific-research platform in a few science missions. One, a mission to study the Gulf Stream, took Turanor up and down the east coasts of the U.S. and Canada.
U.S. Army Slide 6 of 8
Solar tent
This solar tent is just a small example of how the U.S. military is trying to harness the power of the sun.
The Department of Defense aims to produce or procure at least 25% of the energy at its facilities from renewable sources by 2025.
A tent with flexible solar panels, for example, would power batteries, computers, and other gear, meaning soldiers wouldn't need to haul generators and large amounts of fuel.
Solar tents are undergoing field testing in places such as Djibouti, in the Horn of Africa, and Afghanistan, said David Accetta, a spokesman for the Army's Natick Soldier Research, Development and Engineering Center in Massachusetts.
Army scientists are also working on the next generation of solar products: photovoltaic textiles. The goal is to create power-producing fabric, tape, or panel so that "your shirt could be solar panels, " Accetta said.
One such product, also undergoing field testing, is a thin, foldable solar panel that can be tucked in a soldier's pocket. It could be used to charge AA batteries, the kind that currently power night-vision goggles and other electronic equipment that soldiers use.
The Defense Department's biggest solar facility is at the U.S. Army's Fort Huachuca in Arizona. More than 57, 000 solar panels are supplying about 25% of the fort's electricity needs. The project was a joint effort between the U.S. government, Tucson Electric Power, and E.ON Climate and Renewables North America, a subsidiary of E.ON SE.
SolarCity Slide 7 of 8
Solar carports
Covering a parking lot with solar panels — essentially a way to create covered parking spots — is not something you find everywhere.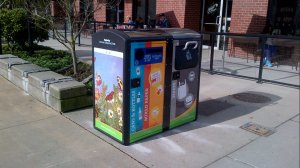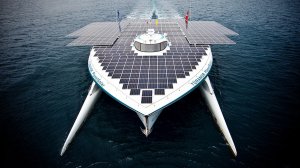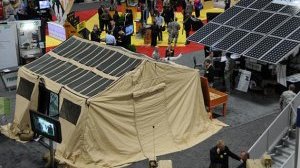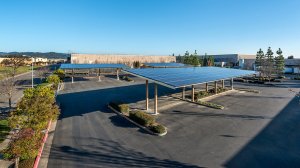 Source: www.marketwatch.com