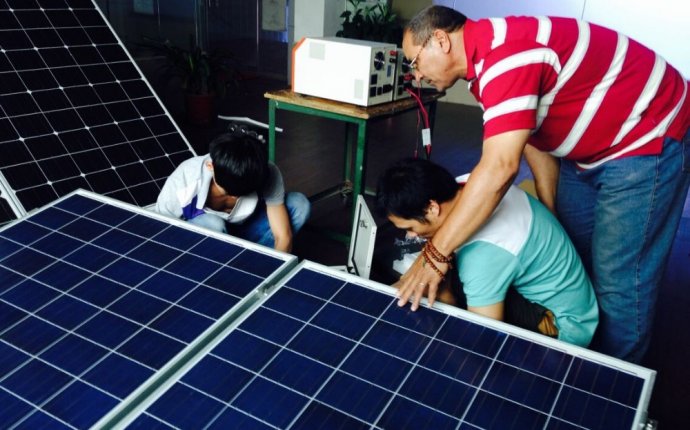 solar system kits for home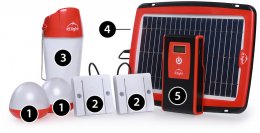 D20 Overview
The d.light D20 solar home system is a personal power grid for your home or business. This modern, efficient energy solution includes a solar panel, mobile-charging battery pack, two solar lights, two light switches, and a portable lantern. Dual light settings provide power for eight hours on the high setting or up to 15 hours on the low setting. Upgrade your home or business with the d.light D20.
Features
Battery: 7–34 hours of light per full charge
Brightness: 8x brighter than kerosene
Solar Panel: Separate solar panel included
Portability: Lantern included with system
Charger: Mobile charging
Product Highlights
Flexible design: The modular D20 system enables you to arrange the solar LED lights to best suit your home or business. With the flip of a switch, you can power up your home.
Reliable energy: The rugged product design of the d.light D20 ensures you have power every day, whenever you want it. The d.light D20 is weatherproof and water-resistant.
Mobile charging: The powerful D20 battery pack comes with a USB port capable of charging mobile phones and other small, USB-powered devices.
D20 Specs
Lighted battery level indicator
USB output charges mobile devices
Long-lasting rechargeable battery
Maintenance-free—over 5-year product life
Two light strings with wall switches included(upgradeable to add more lamps)
Dual charging solar panel or AC adapter
Rugged, high-efficiency solar panel
Rechargeable portable lantern
Two brightness settings
15-hour runtime on low setting, 7 hours on high
Meets Lighting Global quality standards
D20 In the Box
The d.light D20 comes with:
LED solar lights with two settings (2)
Mountable wall switches (2)
Portable LED solar lantern
Sturdy solar panel that can be attached to a roof or wall
Battery pack with charging indicator
USB for mobile charging (not shown above)
D20 Uses
Light up your home or business in an instant. The convenient, mountable light switches turn on bright solar-powered LEDs while the solar charging battery pack also charges mobile devices. The accessory lantern provides portable light when you need it.
The d.light D20 is perfect for:
Fully lighting several rooms at once in homes and businesses
Charging mobile phones and other small, USB-powered devices
Using the portable lantern indoors and outdoors
Upgrading with additional light accessories
D20 Reviews
Already own the d.light D20? d.light values customer feedback and we encourage you to share your experience with our products. Post your review below.
"It is very useful, and a great savings for a family with few resources. It is of good quality. The materials are tough and well-constructed."
—Roger Blanco Salazar, Costa Rica
See also: d.light products review video by Billy Carmen, Small Brand Nation
2-Year Warranty
d.light stands behind our quality solar products and systems. This product is protected by a two-year warranty from the date of purchase.
What does the warranty cover?
The warranty covers product failure from normal use, including the battery, two years from the date of purchase. The warranty is void if the product has been tampered with, opened, repaired, modified, submersed in water, abused, or if damage results from events including but not limited to flood, storm, wind or other natural disasters. The warranty does not cover the gradual reduction in product brightness and hours of light caused by regular use of the battery, LED, and solar panel over time.
How do I receive my replacement product?
Contact the point of purchase to receive your replacement product. Every product comes with a warranty card that is stamped and dated by the retailer at the time of purchase. If the product fails during normal use under the two-year warranty period, a replacement unit will be provided.
Source: www.dlight.com